Beleza
Make-up Monday: Samba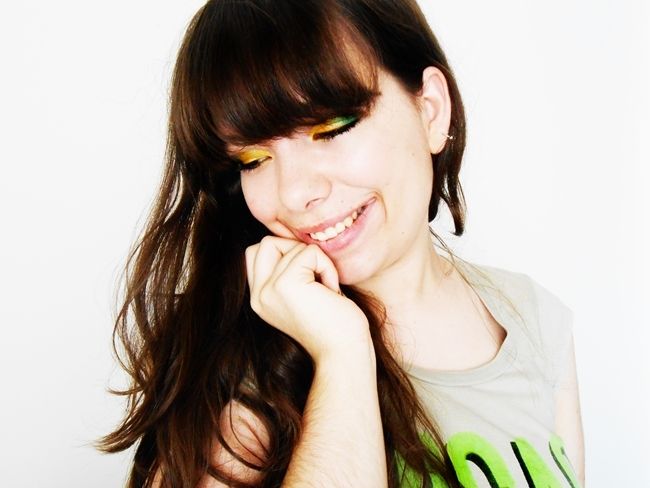 I swore to myself last week I wouldn't wear my new make-up two weeks in a row but when it came to do my make-up for today and I ended up using my 8-Stacks Shimmers from Itay again. The colorus are so brilliant and pretty, I couldn't help it, sorry! All the colours I used are from the stacks, except the brown which is from Rimmel.
I asked my sister for a title for this make-up - "one that isn't 'Brazil'", said I (because this make-up just reminds me of the brazilian flag) and one of the titles she said was 'samba'. Like 'carribean samba', the name of the stacks I have from Itay Cosmetics. So samba it is. Cheerful, colourful, full of joy. Like this make-up.
I hope you'll like it! Have fun dancing!
Eu jurei a mim mesma na semana passada que não iria usar a minha nova maquilhagem duas semanas seguidas mas quando chegou a hora de fazer a minha maquilhagem para hoje acabei por usar os meus 8-Stacks Shimmers da Itay de novo. As cores são tão brilhantes e bonitas, não consegui resistir, desculpem! Todas as cores que usei são do conjunto, excepto o castanho que é da Rimmel.
Perguntei à minha irmã um título para esta maquilhagem - "um que não seja 'Brasil'", disse eu (porque esta maquilhagem só em lembra da bandeira do Brasil) e um dos títulos que ela disse foi 'samba'. Tal como 'caribbean samba', o nome deste conjunto que eu tenho da Itay Cosmetics. Por isso fica samba. Alegre, colorido, cheio de boa-disposição. Como esta maquilhagem.
Espero que gostem! Divirtam-se a dar um pézinho de dança!