Fashion
Le Moulin
♫ ♪ Le Moulin - Yann Tiersen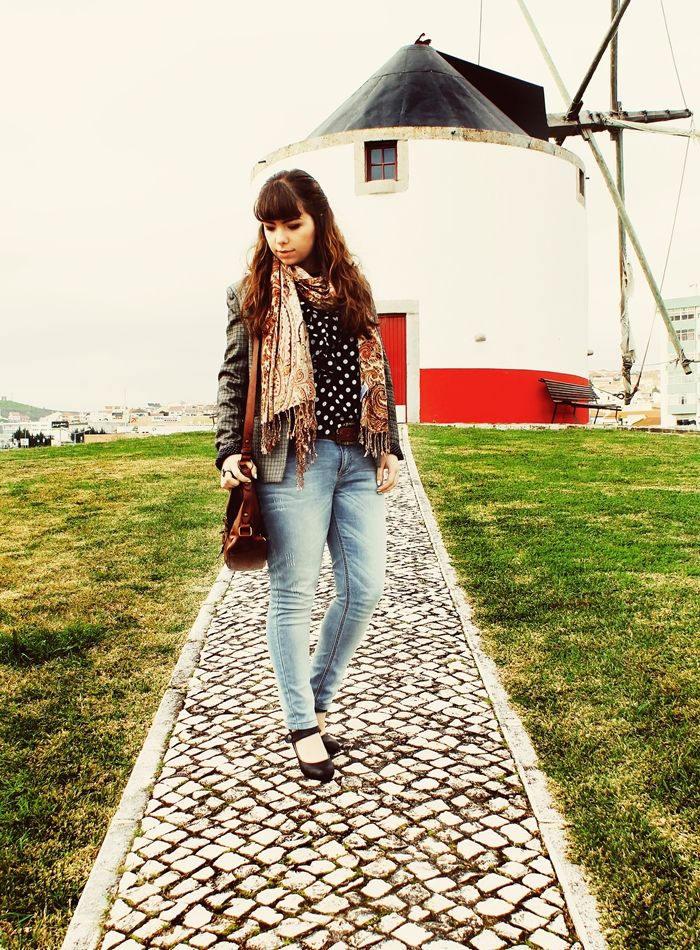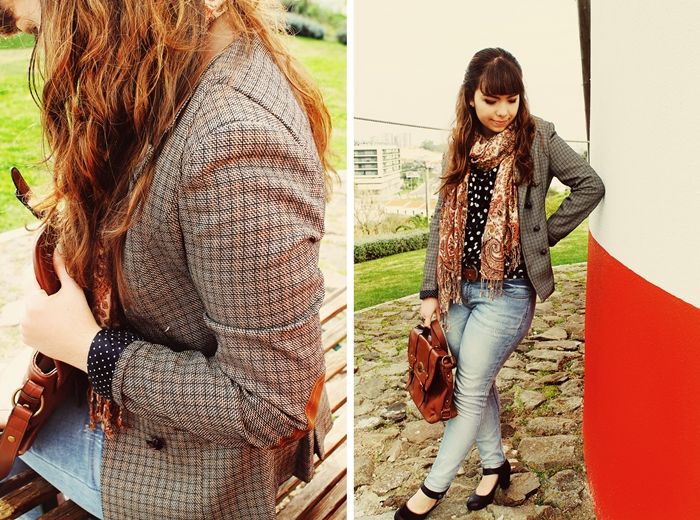 Blazer:

c/o

Sheinside (available here disponível aqui)

|

Blouse

Blusa

:

Primark |

Jeans

Calças de Ganga

:

Lanidor |

Bag

Mala

:

Deichmann |

Scarf

Lenço

:

Cortefiel |

Belt

Cinto

:

Lanidor |

Bracelet

Pulseira

:

Parfois |

Earrings

Brincos

:

Parfois |

Ring

Anel

: c/o The Purple Shmurple Shoppe

|

Shoes

Sapatos

:

Arian

Do you remember I mentioned how much I'm loving this revival of elbow patches? As I've predicted, no matter the fact I'm usually the type of person who stays away from trends, it is something that I'm truly in love with so of course I already own four pieces with elbow patches (when I had none before). I am no shoppaholic so I believe I will stop adding clothing with elbow patches to my closet very soon but, meanwhile, I can't help but loving my late choices like this fantastic blazer. Sure I don't need to mention the elbow patches but have you noticed the polka dot pattern on the lining? I love it and have to blame it for mixing patterns in this outfit. Sorry, I just couldn't help it.
Lembram-se que eu mencionei o quanto estou a adorar o regresso das cotoveleiras? Tal como havia previsto, apesar do facto de ser geralmente o tipo de pessoa que se mantém afastada de modas, é algo de que gosto mesmo por isso é claro que neste momento já tenho quatro peças com cotoveleiras (quando não tinha nenhuma antes). Não sou obcecada por compras por isso acredito que vou parar de adicionar roupa com cotoveleiras ao meu armário muito em breve mas, entretanto, não consigo deixar de adorar as minhas últimas escolhas como este blazer fantástico. É claro que não preciso de mencionar as cotoveleiras mas já repararam no padrão de bolinhas no forro? Adoro-o e tenho que o culpar por misturar padrões neste outfit. Desculpem, é algo que não consigo evitar.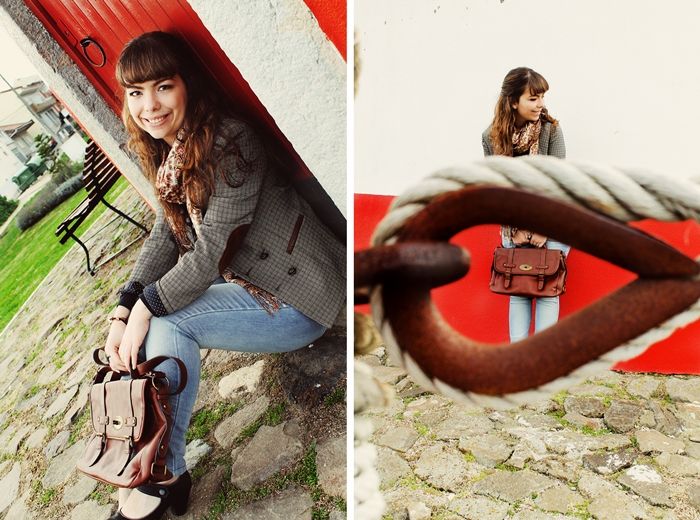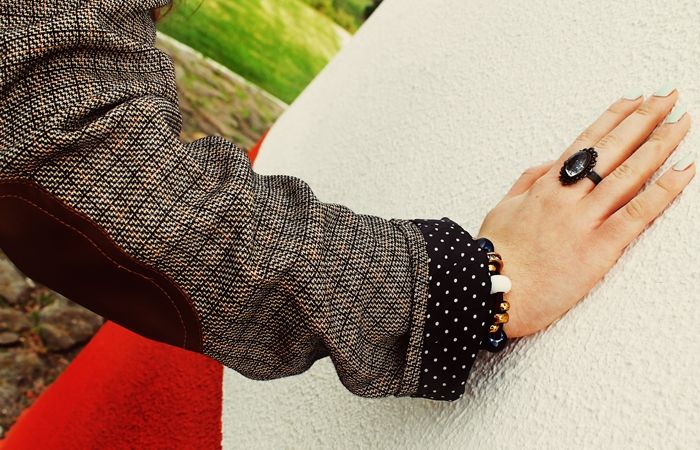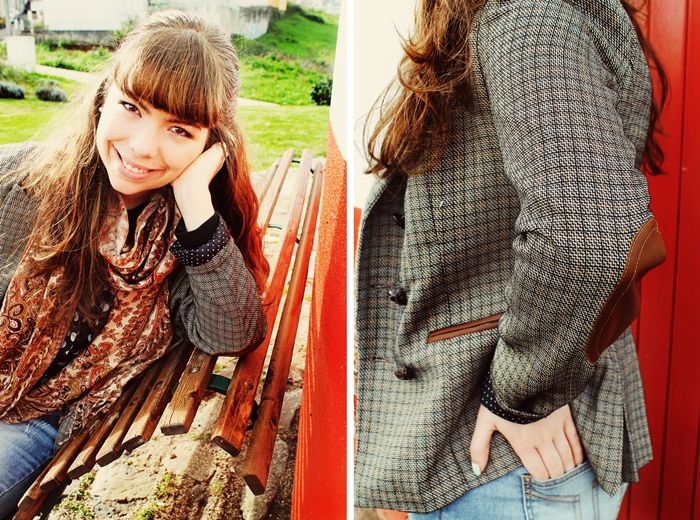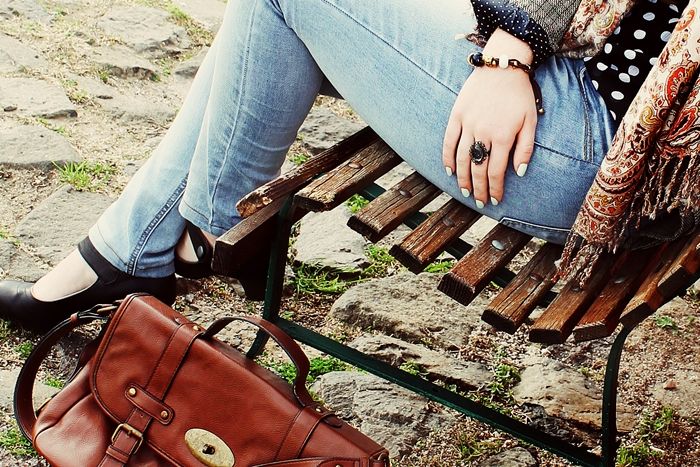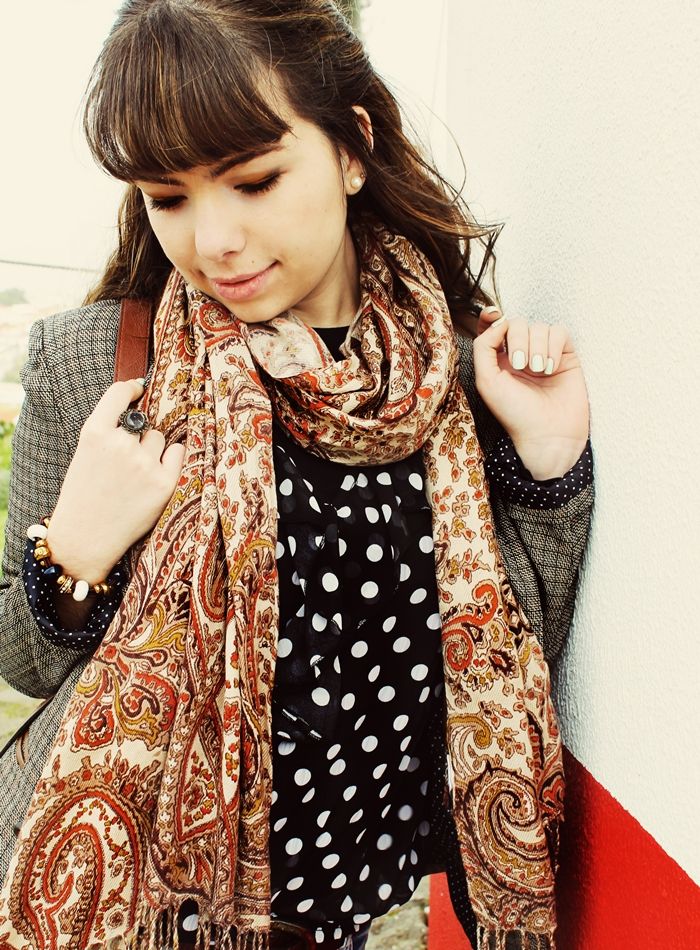 This might sound a bit too cheesy but I can't express how excited I am about these photos. If you're wondering why, let me tell you these were the very first outfit photos I took with my new camera. It's probably from my eyes (or my biased mind!) but I think these look so much better than my old pictures. Yes, I'm almost 100% sure it's just the excitment of having a brand new camera to play with that is speaking lowder on my mind and consequently affecting my sensorial capabilities. However, I will ignore that possibility and cheer because, after such a long time saving every single penny I could, I am now a proud owner of a DSLR. Ever since I bought my very first camera in 2008 that I have been secretly dreaming of owning a professional camera (or at least closer to that). I may be completely broken at the moment but at least I have fullfiled a dream. And that's in what happiness resides.
Isto pode soar um pouco lamechas mas não consigo expressar o quão entusiasmada estou com estas fotos. Se se estiverem a perguntar o porquê, deixem-me dizer-vos que estas foram as primeiras fotografias de um outfit que tirei com a minha nova máquina fotográfica. Deve ser muito provavelmente dos meus olhos (ou da minha mente parcial!) mas penso que parecem muito melhor que as minhas fotos antigas. Sim, tenho quase 100% a certeza que é apenas o entusiasmo de ter uma máquina nova com que brincar a falar mais alto na minha mente e consequentemente a afectar as minhas capacidades sensoriais. Ainda assim, vou ignorar essa possibilidade e alegrar-me porque, depois de tanto tempo a poupar cada centavo que podia, sou agora dona orgulhosa de uma Reflex. Desde que comprei a minha primeira máquina fotográfica, em 2008, que sonho secretamente em ter uma máquina profissional (ou pelo menos perto disso). Posso estar completamente falida de momento mas pelo menos alcancei um sonho. E é nisso que a felicidade reside.