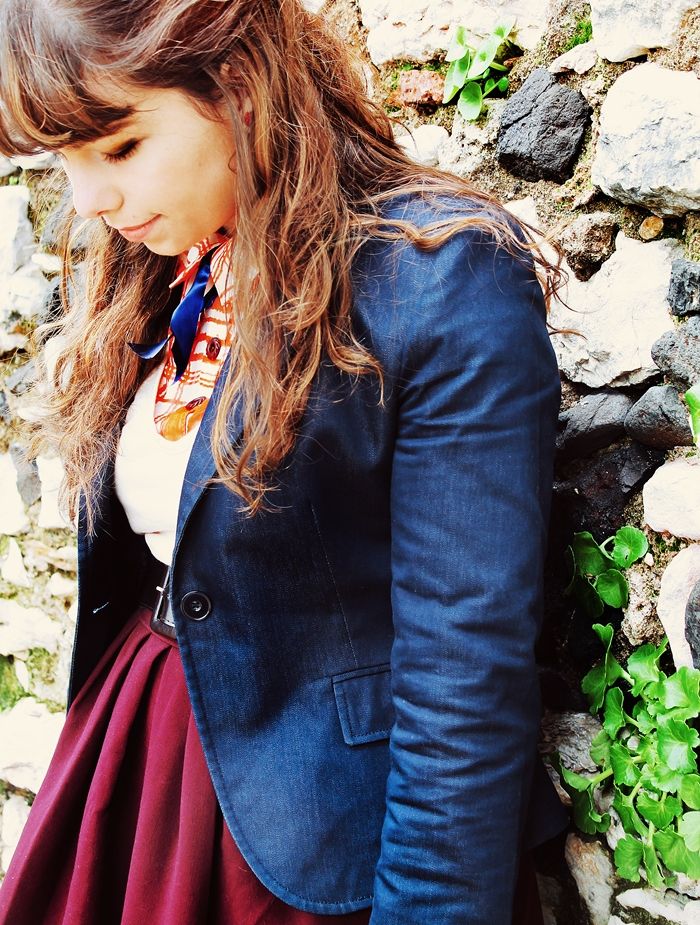 ♫ ♪ Riot - Bullet For My Valentine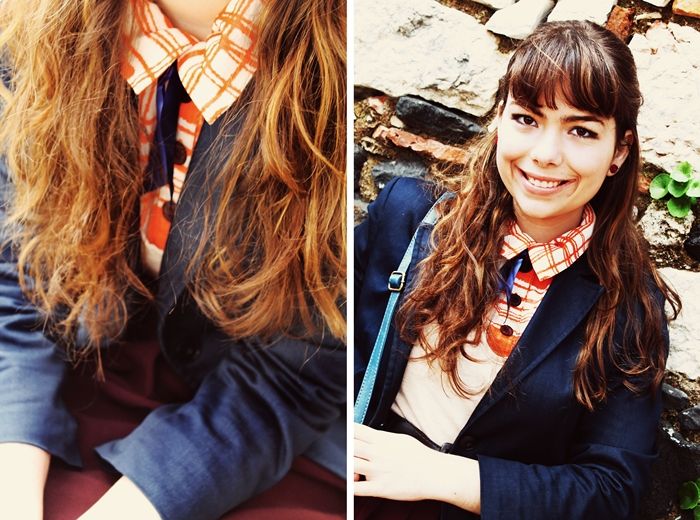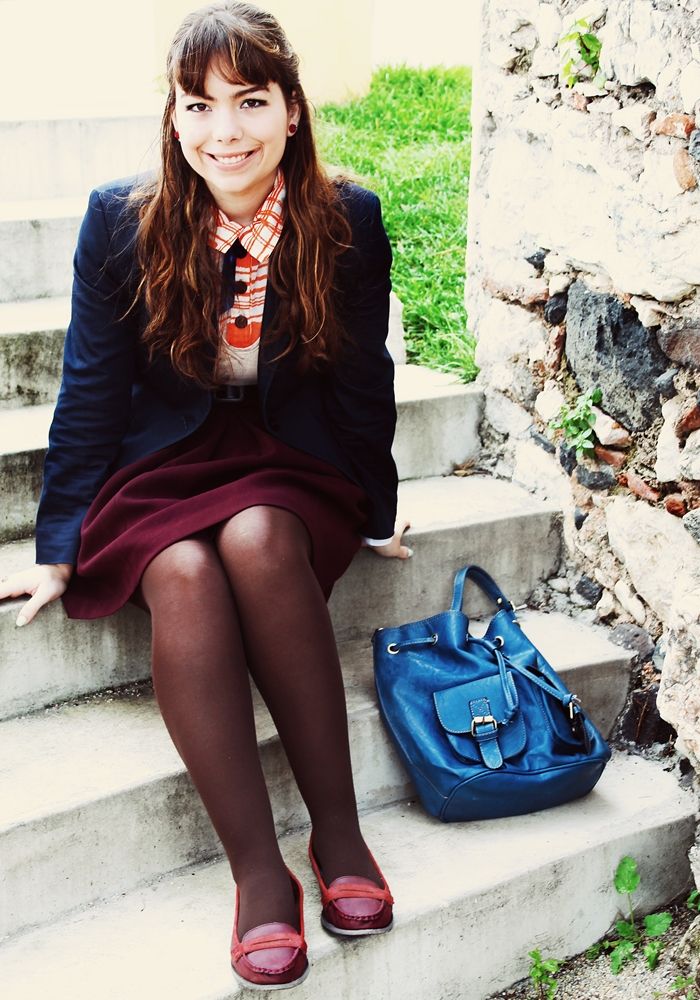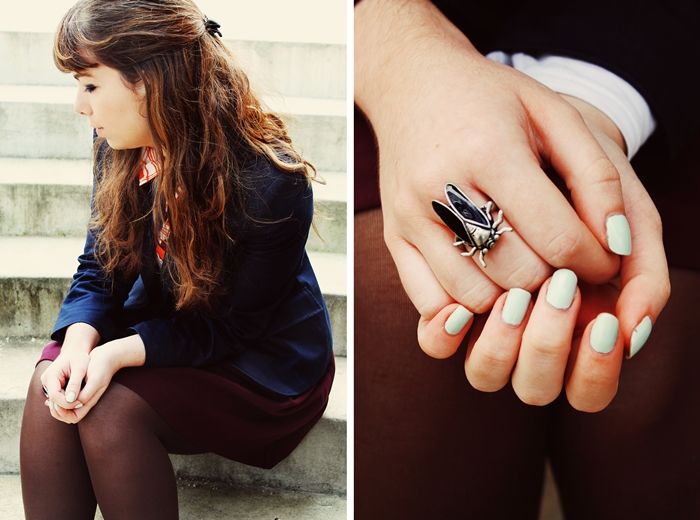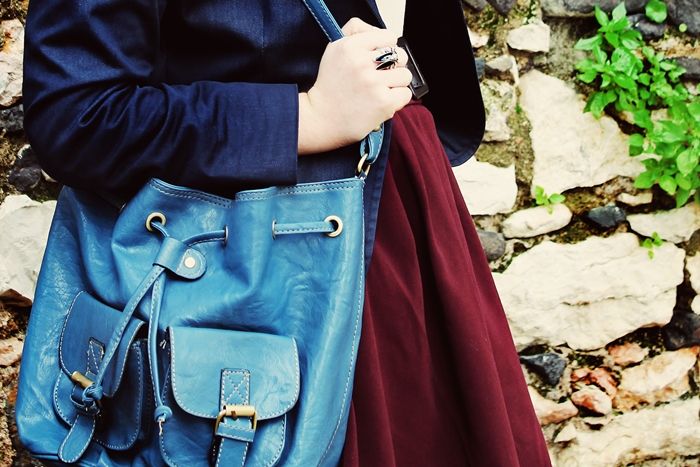 Dress

(worn as a blouse)

Vestido

(usado como blusa)

:

c/o Pissenlit

|

Blazer:

Shop One |

Skirt

Saia

:

Sfera |

Bag

Mala

: c/o Kristine's Collection (available here disponível aqui)

|

Ring

Anel

:

H&M

|

Earrings

Brincos

:

Parfois

This outfit celebrates the fact I own now a new skirt. This wouldn't be such great news if it wasn't for the fact that, despite my passion for skirts, I find it very hard to buy a skirt. Thing is, I don't like short skirts (or, as I usually say, I like something that covers my butt). I am not sure where did this 'trend' came from but wherever I look I just see skirts that I could probably wear as a top. Sorry, that's just not my thing! So, when I went to take a peak at sales with my mom and my sister and saw this skirt, I immediatly grabbed it and went to try it on. It was love at first sight so of course I had to bring it with me! It ended up being a gift from my mom (probably because she knows how hard it is for me to find a decent skirt!) so it feels even more special to me. It is definitely a piece to cherish!
Este outfit celebra o facto de eu ter agora uma nova saia. Isto não seria nada de especial não fosse o facto de, apesar de eu ter uma paixão por saias, considerar muito difícil comprar uma saia. A verdade é que eu não gosto de saias curtas (ou, como costumo dizer, gosto de algo que me cubra o rabo). Não tenho a certeza de onde veio esta 'tendência' mas para onde quer que olhe só vejo saias que podia provavelmente usar como top. Desculpem, não é algo de que eu goste! Por isso, quando fui espreitar os saldos com a minha mãe e a minha irmã e vi esta saia, peguei imediatamente nela e fui experimentá-la. Foi amor à primeira vista por isso é claro que a tinha que trazer comigo! Acabou por ser uma prenda da minha mãe (provavelmente porque ela sabe o quão difícil é para mim encontrar uma saia decente!) por isso é ainda mais especial para mim. É sem dúvida uma peça que adoro!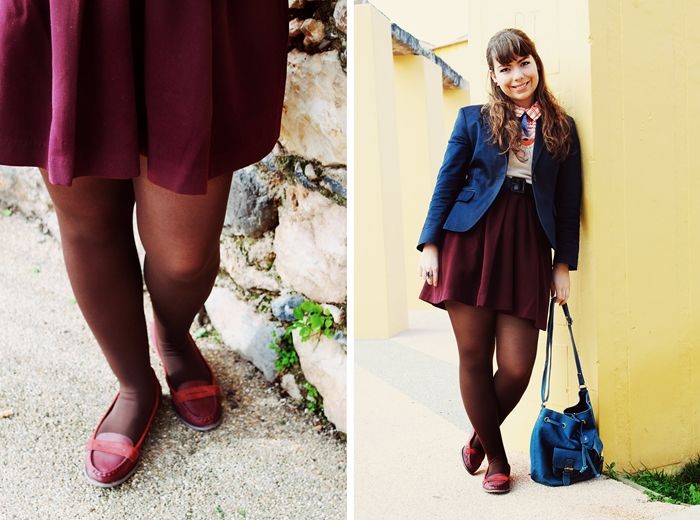 I will usually just put a link for a song that either matches my outfit or evokes a feeling related to it but on this post I am definitely taking the opportunity to say my two cents on an album I can't stop listening to!
I happen to mention it quite often but, if you didn't know, my current style doesn't really match my musical taste. I am a true fan of rock and metal at heart (and I used to dress like it!) so you can be sure I literally bang my head of joy (got the reference?) when one of my favourite bands releases some new music!
Bullet for My Valentine are one of those bands I follow from the very beggining. I remember listening to their first album, The Poison, very enthusiastically but I gotta confess it was Scream Aim Fire that turned me into the BFMV fan I am today! Fever followed along (and my obsession grew even more!) and now they have just released Temper Temper, which has already conquered my heart (and by this I mean I have been listening to it non-stop!). This post features one of their new singles but I can't just let this opportunity go by without featuring the biggest surprised of this album... because I am sure you all know Tears Don't Fall (one of Bullet's most famous song, from their first album), they have just released Tears Don't Fall Part 2! Of course, I am really obsessed with it so I had to share it with you!
Normalmente só coloco um link para uma canção que ou combina com o meu outfit ou que evoca um sentimento que lhe está relacionado mas neste post vou definitivamente aproveitar para dar a minha opinião sobre um albúm que não consigo parar de ouvir! Já o mencionei várias vezes mas, para o caso de não saberem, o meu estilo actual não combina muito com o meu gosto musical. Sou uma verdadeira fã de rock e metal de coração (e costumava me vestir de acordo!) por isso podem ter a certeza que abano a minha cabeça de alegria (perceberam a referência?) quando uma das minhas bandas preferidas lança música nova!
Os Bullet for My Valentine são uma daquelas bandas que sigo desde o início. Lembro-me de ouvir o primeiro albúm deles, The Poison, muito entusiasticamente mas tenho que confessar que foi o Scream Aim Fire que me tornou a fã dos BFMV que sou hoje! Seguiu-se o Fever (e a minha obsessão cresceu ainda mais!) e agora eles acabaram de lançar o Temper Temper, que já conquistou o meu coração (e com isto quero dizer que tenho andado a ouvir sem parar!). Neste post podem ouvir um dos novos singles mas não posso simplesmente deixar passar esta oportunidade sem mostrar uma das maiores surpresas deste albúm... porque tenho a certeza que todos conhecer a Tears Don't Fall (uma das canções mais conhecidas dos Bullet, do primeiro albúm), eles acabaram de lançar a Tears Don't Fall Part 2! É claro, eu já estou mesmo obcecada com a música por isso tinha de partilhar convosco!